Bratislava City Tours Presporacik Oldtimer - Panoramic Tour
To experience the most beautiful panoramic views in Bratislava look no further than our Panoramic Tour. To see these amazing views you can travel on the Prešporáčikom® Oldtimer which will drive you all the way up to Slavin – historical memorial from the 2nd world war. During the 15 minutes break you can experience the amazing view over Bratislava, where the old town buildings blend with the new town's modern looking glass buildings. It is a view to remember… Whilst there you can also wonder about and enjoy the nature of the park as well as pay respects to the fallen soldiers. Next, the Prešporáčikom® Oldtimer will take you to the other side of the hill, which is the site of Bratislava Castle. Here, during the 20 minutes break, you can walk to the castle walls, where the horizon looks over the Slovak-Austrian borders and see the last hills of the Carpathian Mountains descending into the Carpathian valley. The things to see outside of the castle is the baroque garden, castle well and wide courtyard. During the tour we will show you the majestic Blue Church, which looks as if it's straight out of a fairy tale, the modern building is the Slovak National Theatre, the new age shopping center Eurovea is not to be missed. It's façade is made out of glass. We will get you acquainted with our history from the inception of the Hungarian kingdom, through the Maria Theresia rein, the age of socialism and to modern times. You will also see the historical building of the Slovak National Theatre and the Ganymede fountain, Government office, Presidential palace and many more interesting buildings Redeem informationVoucher type: PrintedPrinted Voucher. Print and bring the voucher to enjoy the activity.LocationStarting point: Gorkého 132 (Slovak National Theatre) - Bratislava - SKPlease ensure you arrive at the meeting point at least 15 minutes prior to the tour start time.End point: Same as starting pointScheduleDuration: 95 MinutesGuiding optionsGuiding type: AudioguideRequirementsPlease provide the hotel name at the moment of reservation. Please indicate your telephone number when booking.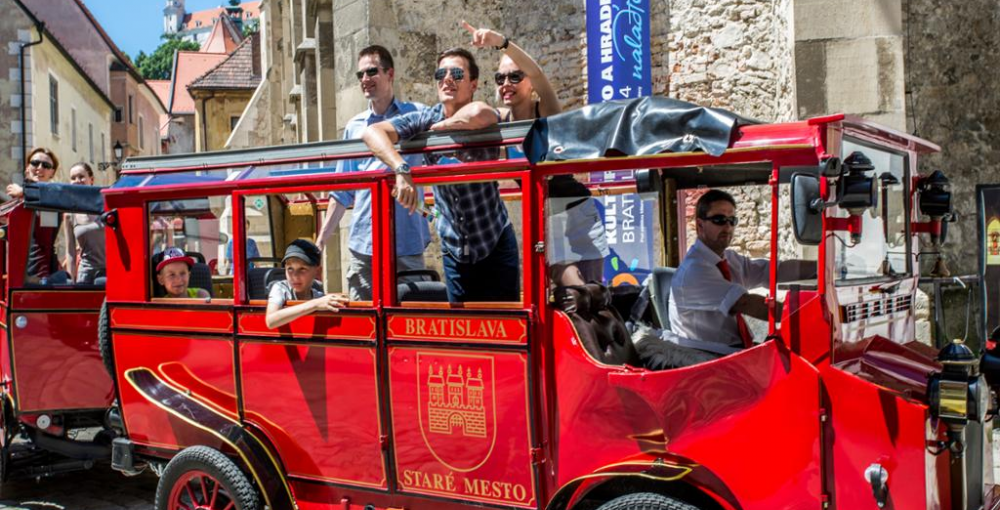 We'll call you back with our best prices guaranteed.