Dolphin Royal Swim in Grand Sirenis Akumal-Tulum
Dolphin Royal Swim at Tulum Akumal Pure excitement: action and speed! Dolphin Discovery Akumal settles at the beautiful biodiversity Reservation of Akumal Bay, one of the top ten places in the world because there are enough entertainments and sightseeing, like Yalku-Lagoon; Half Moon Bayand Bahia Akumal. Our brand new dolphin hábitat in the Mayan Riviera is located just 20 minutes driving south from Playa del Carmen and 20 minutes driving north from the famous archaeological siteTulum. Here you will be able to live an unforgettable experience, a close interaction with cute and friendly dolphins. The Dolphin Royal Swim program gives you several ranges of activities to enjoy. You kiss, and give a handshake to a dolphin, you learn all about them and touch the soft skin of these incredible marine mammal shaving a personal interaction with them. This swim with dolphins program includes the famous foot push where two dolphins propel you from your feet soles upthe water surface. Awesome! Afterwards, you grab their dorsal fins as they speed through the water, giving you an exhilarating ride. Dolphin Akumal invites you to live the exciting adventure of swimming with these beautiful marine animals in our newest location besides the Caribbean Sea. Dolphin Discovery Akumal has breath taking panoramic views and it is the only one with all dolphins born under human care (certified MIRACLE program). Behaviors - Kiss ang Hug - Handshake - Hand Target - Dorsal Tow - Foot Push Program with 15 min briefing and 40 min in the water. Redeem informationVoucher type: Printed and e-VoucherPrinted voucher or E-voucher. Print and bring the voucher or show the voucher on your mobile device to enjoy the activity.LocationStart point: Dolphin Discovery Akumal-TulumPlease be at the meeting point 30 minutes prior to the start time.End point: Same as the starting pointScheduleOpening dates10:00 - 17:00Duration: 60 MinutesGuide optionsGuide type: GuideRequirementsRemember to bring the voucher and valid photo ID with you Women less than 5 months into their pregnancy can participate in the Encounter program only if accompanied by another adult and after signing a Responsibility Form. For safety reasons pregnant women (5 months and up) can't participate in any of our aquatic programs. For security reasons, the use of cameras inside the water is not allowed, professional photos will be available for sale. If you have any health or physical problem please contact our call center before you make your reservation so we can provide you full information about our services.RecommendationsWe recommend bringing a swimsuit, biodegradable sun cream, sandals, a hat, a towel, a change of clothes and sunglasses.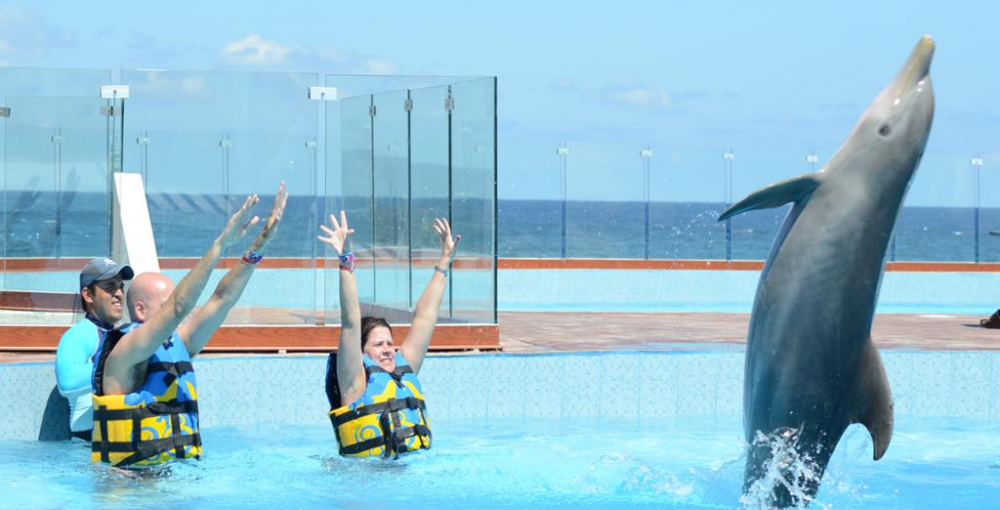 We'll call you back with our best prices guaranteed.