Ferrari World Abu Dhabi - 1 Day 1 Park
Ignite happiness at Ferrari World Abu Dhabi with rides and attractions for everyone in the family. Under the iconic red roof is fun for all ages. Guests get to experience an exciting journey through 37 heart pounding rides and attractions. From state-of-the-art simulators, driving experiences (prior booking required with supplement) and record-breaking rollercoasters - including the world's fastest - to interactive child-friendly attractions, Ferrari World Abu Dhabi is a perfect day out for the whole family. Between the adrenaline pumping rides and family-friendly shows, you get to go behind the scenes of the exclusive world of Ferrari, to feel the passion that went into making these modern-day masterpieces and to relive all the triumphs. General Admission ticket provides unlimited access to all rides and attractions of Ferrari World Abu Dhabi (except Formula 1, F 430 and Karting Academy) Premium Ticket: This ticket is valid for single-day admission with Flash Pass to Warner Bros Abu Dhabi. Flash Pass enables to skip the regular lines over on participating rides and attractions. The ticket should be used within the Valid dates. Special value offer : The one Standard Ferrari World Abu Dhabi entry ticket is valid for one day inclusive of combo lunch. Unlimited access to all rides and attractions of Ferrari World. Others Lockers, Luggage storage, strollers and wheelchairs are available for rental with supplement, subject to availability. Some of the rides might be closed on the day of your visit due to unexpected maintenance. There are shuttle transfers available for guests coming from Dubai or Jumeirah Cities at a supplement, please book under Transfers and Shuttles - Shared Transfers. Once the voucher is used, it is considered sold and it is payable by the client. Redeem informationVoucher type: PrintedPrinted Voucher. Print and bring the voucher to enjoy the activity.LocationStart point: Ferrari World, Yas Island, Abu Dhabi, Dubai - ABU DHABI - AEEnd point: Same as the starting pointScheduleOpening dates11:00 - 20:00Guide optionsGuide type: Not includedRequirementsYou are advised to bring your passport. Children up until 3 years old are free by presenting ID. You must be at least above 1.2m to avail most of the rides. Park has rules and restrictions, kindly adhere to avoid disappointments. All the guests under 13 must be accompanied by an adult.RecommendationsCombo meal is only available at 'Officer's Food Quarters' or 'Il Podio'. Combo meal must be redeemed during your visit to the Park. The combo lunch includes an entitlement to a drink (fountain soft drink, or selected bottled water). Menu restrictions will apply, please ask in Park for more details.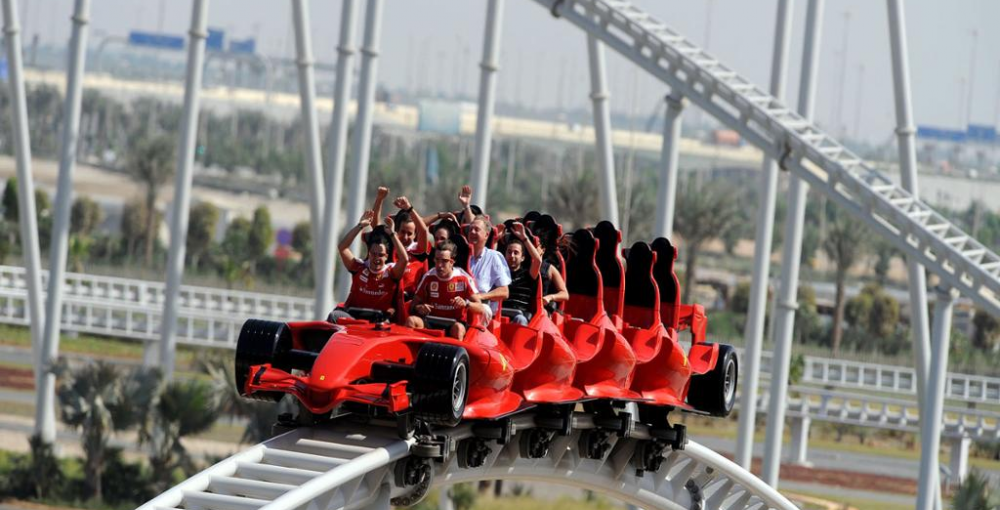 We'll call you back with our best prices guaranteed.