Supercat & Dolphins with transfer
Hop aboard for an unforgettable day at sea on the sleek, sun-drenched Supercat You'll see magnificent cliff formations, the hidden coves and concealed beaches while you sit back and relax on a comfortable sunlounger, set out on the spacious deck. There are two options: the two-and-a-half hour dolphin trip and the five-hour Supercat trip, which includes lunch. We'll sail from Puerto Rico harbour into the Atlantic to lap up the sub-tropical waters and year-round good weather. The voyage will explore Gran Canaria's beautiful coastline until we arrive at the stunning Guigui beach located in an unspoilt and remote bay where you can swim in the calm crystal clear waters and frolic on the sand while sipping a welcome cocktail. On the Supercat trip, you'll enjoy a traditional Canarian feast of delicious food washed down with cool drinks and complemented by sensational views. There's plenty of room on board for you to sunbathe on sunloungers, or to just sit back and watch as you sail past the impressive and varied basalt coastline scattered with volcanic cliffs, sunny beaches and quiet harbours. And while you relax, why not try a dip in our hot tub while you listen to the lapping of the waves? Come along with the whole family for this thrilling adventure aboard one of the largest and most stylish catamarans in the world. Hotel pick-up between 8.15-9.40am, with return to port at 3pm for the Supercat. There are two Dolphin sailings: the first with pick-up between 8.15-9.40am, returning at 12.30pm; and another with pick-up between 11-12.30am, returning at 3pm. Vegetarian option available on the Supercat trip. One of the world's largest and most stylish catamarans is about to sail into the Atlantic and all that's missing is you! There are two fascinating cruises to choose from, giving you the chance to either sail in search of dolphins or to a remote, unspoilt beach at the foot of imposing basalt cliffs. Whichever you plump for, you are assured of fabulous day relaxing on a sunlounger on the Supercat. A traditional Canarian lunch is included with the cruise to Guigui beach.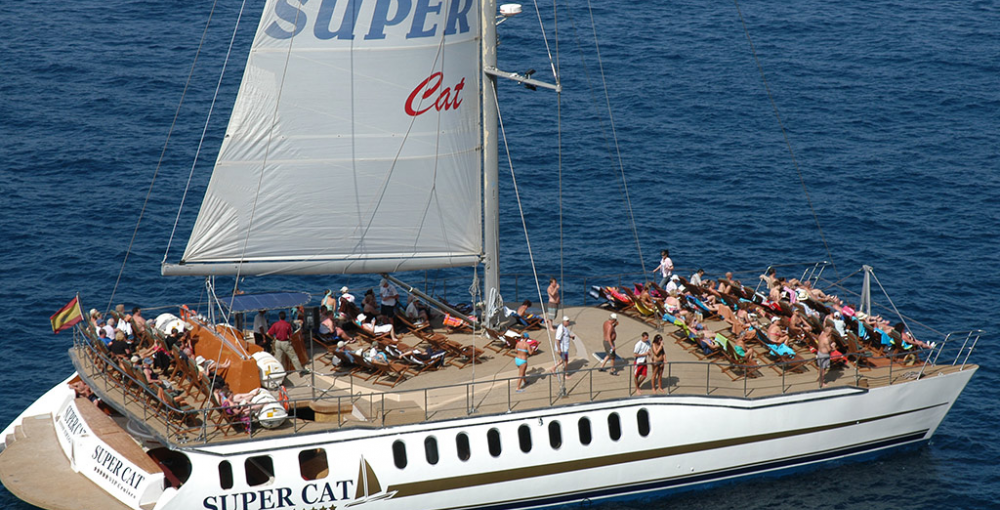 We'll call you back with our best prices guaranteed.