Swim Adventure in Chankanaab Park
Cozumel, one of the top tourist island destinations, is a place that you will surely have a blast with all your family. The white-powdered sand and the turquoise crystalline water will be the perfect landscape to the perfect vacation. With amazing marine life and cultural diversity, Cozumel is by far the best option you can consider for your vacation. Among the many things to do in Cozumel and the activities the island has to offer, the Dolphin Swim Adventure is a must-do. The island, known for its snorkeling and diving opportunities and colorful sea life, is the home to our adorable dolphins. At Dolphin Discovery Cozumel we have one of the most interactive dolphin programs in the Caribbean where you'll have the opportunity to spend some time with lovely marine mammals in their natural habitat. This program is one of the most complete of all, you'll be able to immerse yourself in the dolphin's world. Receive the most wonderful kiss you have ever had, the warmest hug and the famous belly ride, where you'll hold on to the dolphin's fins as he swims backwards. Redeem informationVoucher type: Printed and e-VoucherPrinted voucher or E-voucher. Print and bring the voucher or show the voucher on your mobile device to enjoy the activity.LocationStart point: Carretera Costera Sur km 9.5 Parque Chankanaab - 77600 - Cozumel - MXEnd point: Same as the starting pointScheduleOpening datesMonday/Tuesday/Wednesday/Thursday/Friday/Saturday, 09:00 - 17:00Duration: 40 MinutesGuide optionsGuide type: Not includedRequirementsMandatory life jacket use. Remember to bring the voucher and valid photo ID with you For safety reasons pregnant women (5 months and up) can't participate in any of our aquatic programs. Women less than 5 months into their pregnancy can participate in the Encounter program only if accompanied by another adult and after signing a Responsibility Form. For security reasons and to avoid disturbing the dolphins, visitors and trainers, cameras nor video cameras are allowed in wet areas.RecommendationsWear comfortable shoes, bathing suit, light clothing, towel, biodegradable sunscreen, sunglasses, change of clothing, sandals, and water shoes.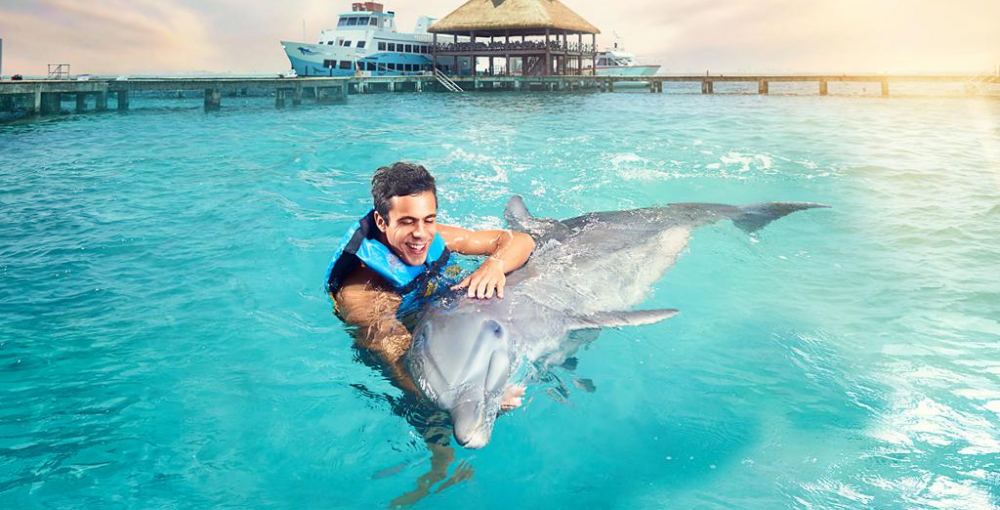 We'll call you back with our best prices guaranteed.